My Blog
Posts for: June, 2017
Magician Michael Grandinetti mystifies and astonishes audiences with his sleight of hand and mastery of illusion. But when he initially steps onto the stage, it's his smile that grabs the attention. "The first thing… that an audience notices is your smile; it's what really connects you as a person to them," Michael told an interviewer.
He attributes his audience-pleasing smile to several years of orthodontic treatment as a teenager to straighten misaligned teeth, plus a lifetime of good oral care. "I'm so thankful that I did it," he said about wearing orthodontic braces. "It was so beneficial. And… looking at the path I've chosen, it was life-changing."
Orthodontics — the dental subspecialty focused on treating malocclusions (literally "bad bites") — can indeed make life-changing improvements. Properly positioned teeth are integral to the aesthetics of any smile, and a smile that's pleasing to look at boosts confidence and self-esteem and makes a terrific first impression. Studies have even linked having an attractive smile with greater professional success.
There can also be functional benefits such as improved biting/chewing and speech, and reduced strain on jaw muscles and joints. Additionally, well-aligned teeth are easier to clean and less likely to trap food particles that can lead to decay.
The Science Behind the Magic
There are more options than ever for correcting bites, but all capitalize on the fact that teeth are suspended in individual jawbone sockets by elastic periodontal ligaments that enable them to move. Orthodontic appliances (commonly called braces or clear aligners) place light, controlled forces on teeth in a calculated fashion to move them into their new desired alignment.
The "gold standard" in orthodontic treatment remains the orthodontic band for posterior (back) teeth and the bonded bracket for front teeth. Thin, flexible wires threaded through the brackets create the light forces needed for repositioning. Traditionally the brackets have been made of metal, but for those concerned about the aesthetics, they can also be made out of a clear material. Lingual braces, which are bonded to the back of teeth instead of the front, are another less visible option. The most discrete appliance is the removable clear aligner, which consists of a progression of custom-made clear trays that reposition teeth incrementally.
How's that for a disappearing act?!
If you would like more information about orthodontic treatment please contact us or schedule an appointment for a consultation. You can also learn more about the subject by reading the Dear Doctor magazine article "The Magic of Orthodontics."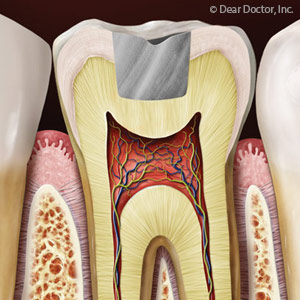 Recently, a number of new filling materials that mimic tooth color have come into popular use and, so far, have proven more durable than past versions. Even so, the traditional metal-based dental amalgam remains a viable choice, especially for less visible back teeth and their higher biting forces.
Used for more than a century, dental amalgam is a metal alloy composed of silver, mercury, tin and copper. The mixture is carefully proportioned so that potentially hazardous mercury is kept to a minimum and bonded with the other metals. Amalgam in its initial form is quite pliable so that it can be molded into the tooth structure under repair. Afterward it sets hard to form a durable filling that can withstand the daily force generated when we bite and chew food.
Besides durability, dental amalgam rarely causes an allergic reaction in a patient, and it's easy for trained dentists to apply. On the downside, however, it can cause temporary temperature sensitivity in the tooth just after filling, and the tooth itself may require some removal of healthy structure to help keep the filling in place. And from an aesthetic point of view, its metallic appearance is considered unattractive especially for front teeth.
The presence of mercury in amalgam has also raised concerns over the years. "Free" mercury — atoms that escape through vapor emitted by the metal — can enter the bloodstream and potentially harm the nervous system. But after extensive study and research, U.S. and international health bodies including the American Dental Association have concluded any free mercury released during chewing is extremely low and well below any harmful levels. These studies have also found no ill effects in either children or adults with dental amalgam fillings.
Deciding on the type of filling material to use — dental amalgam or a newer composite resin, resin ionomer or glass ionomer — depends on a number of factors including the location of the teeth to be filled, the extent of decay and your personal preferences. Taking these into account, we'll be happy to discuss which type of filling will suit you best for repairing decayed teeth.
If you would like more information on filling material options including dental amalgam, please contact us or schedule an appointment for a consultation. You can also learn more about this topic by reading the Dear Doctor magazine article "Silver Fillings — Safe or Unsafe?"