My Blog
Posts for: September, 2021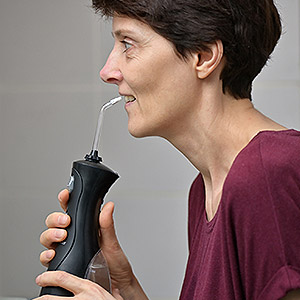 Dental plaque, that gritty bacterial film coating your teeth, is the top cause for tooth decay and periodontal (gum) disease. You can see and feel a lot of it—but not all of it. Some deposits can lodge snugly between your teeth, and can cause dental disease just as much as what's out in the open.
The problem with between-teeth plaque is that even a solid brushing habit might not effectively remove it. That's why you flossing should also be part of your daily oral hygiene.
If the thought of flossing, however, causes you to let out an audible sigh, we understand. Flossing typically engenders less enthusiasm than brushing, mainly because many find flossing time consuming and difficult to do.
If traditional flossing isn't your bag, we may have a reasonable alternative. Oral irrigation is a hygiene method for removing plaque between teeth using a pressurized water spray. You direct the water spray between your teeth using a handheld wand (which somewhat resembles a power toothbrush) and small hose attached to a countertop pump appliance.
A mainstay in dental offices, oral irrigators (or water flossers) have been available for home use since the 1960s. They're ideal for people who have problems with manual dexterity or who may not want to contend with flossing thread. They also make it easier for patients wearing braces to clean between their teeth, a monumental task using regular floss.
As to effectiveness, oral irrigation appears to match that of regular flossing, especially for orthodontic patients. Clinical studies in the early 2000s compared patients with braces using oral irrigation with those who were brushing only. Those using irrigation were able to remove five times as much plaque as the other group.
There are a number of comparable oral irrigation brands on the market from which to choose, and your dentist can advise you on features to look for when purchasing one. Just be sure you're using some method, oral irrigation or traditional flossing, to remove disease-causing plaque from between your teeth—either will go a long way in keeping your teeth and gums healthy.
If you would like more information on flossing methods, please contact us or schedule an appointment for a consultation. You can also learn more about this topic by reading the Dear Doctor magazine article "Cleaning Between Your Teeth."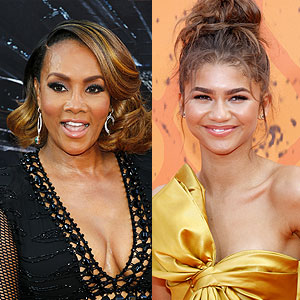 Kill Bill fans have been pressing for a third installment of the stylized revenge tale since Kill Bill, Volume 2 hit the theaters in 2004. Finally, filmmaker Quentin Tarantino is talking about the long-awaited Volume 3 as if it might soon become a reality. The third movie in the franchise would most likely focus on the now-grown daughter of the character played by Vivica A. Fox in the first two. Vivica recently made known that should Kill Bill, Volume 3 go into production, she thinks 24-year-old actress and singer Zendaya would be perfect for the role.
Although Zendaya is a few inches taller than Vivica, the two women have a few things in common. Besides being talented movie and television actresses who have won awards for their roles, they both have camera-ready smiles. And both Vivica and Zendaya can thank their dentists for helping their smiles be their best.
In 2016, Vivica told Dear Doctor magazine that her smile needed a boost, so she opted for dental veneers to correct gaps between her teeth—and she's very happy with them. "I love my veneers!" she exclaimed. Zendaya also had help in achieving her Hollywood-perfect smile. In 2011, early in her career on the Disney channel, she wore clear orthodontic aligners to straighten her teeth. To further perfect her smile, she visited her dentist for professional teeth whitening in 2016, inviting a film crew along to show how easy and effective in-office tooth whitening is.
But you don't have to be a celebrity to enjoy smile-enhancing dental treatments. They are great options for anyone who wants to improve the look of their smile.
Teeth whitening. If your teeth are looking yellowed, in-office whitening can make them up to 10 shades brighter in one visit! Some people prefer professional at-home whitening kits, which produce great results more gradually.
Bonding or veneers. For small chips and cracks, cosmetic bonding can cover flaws by adding layers of a tooth-colored material over the tooth. For bigger flaws, heavy discoloration or gaps between teeth as Vivica had, dental veneers may be the answer. These custom-made thin porcelain shells cover the front-facing surface of the tooth, hiding imperfections to give anyone a Hollywood smile.
Orthodontics. Crooked teeth can detract from the look of a smile. While traditional braces are an option, many people with mild to moderate alignment issues find removable clear aligners the perfect way to get the smile they desire with minimal impact on their daily activities. Clear aligners are very subtle and can be removed for eating and cleaning as well as for special occasions—or for filming scenes, as Zendaya knows.
Contact us or schedule an appointment for a consultation to see if professional teeth whitening, cosmetic bonding or veneers, orthodontics, or another dental treatment could enhance your smile. You can also learn more by reading the Dear Doctor magazine articles "Important Teeth Whitening Questions Answered" and "How Your Dentist Can Help You Look Younger."