My Blog
Posts for tag: teeth whitening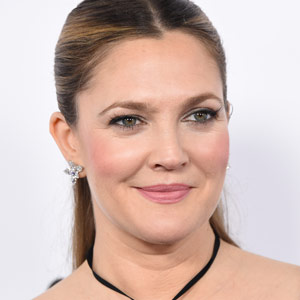 Best known for her roles in E.T. and Ever After, and more recently as a suburban mom/zombie on Netflix's Santa Clarita Diet, Drew Barrymore is now bringing her trademark quirky optimism to a new talk show, The Drew Barrymore Show on CBS. Her characteristic self-deprecating humor was also on display recently on Instagram, as she showed viewers how she keeps her teeth clean and looking great.
In typical Drew fashion, she invited viewers into her bathroom to witness her morning brushing ritual (complete with slurps and sloshes). She also let everyone in on a little insider Drew 411: She has extremely sensitive teeth, so although she would love to sport a Hollywood smile, this condition makes teeth whitening difficult.
Barrymore's sensitivity problem isn't unique. For some, bleaching agents can irritate the gums and tooth roots. It's usually a mild reaction that subsides in a day or two. But take heart if you count yourself among the tooth-sensitive: Professional whitening in the dental office may provide the solution you are looking for.
In the dental office, we take your specific needs into account when we treat you. We have more control over our bleaching solutions than those you may find in the store, allowing us to adjust the strength to match your dental needs and your smile expectations and we can monitor you during treatment to keep your teeth safe. Furthermore, professional whitening lasts longer, so you won't have to repeat it as often.
After treatment, you can minimize discomfort from sensitive teeth by avoiding hot or cold foods and beverages. You may also find it helpful to use a toothpaste or other hygiene product designed to reduce tooth sensitivity.
The best thing you can do is to schedule an appointment with us to fully explore your problems with sensitivity and how we may help. First and foremost, you should undergo an exam to ensure any sensitivity you're experiencing isn't related to a more serious issue like tooth decay or gum recession.
Having a bright smile isn't just advantageous to celebrities like Drew Barrymore—it can make a difference in your personal and professional relationships, as well as your own self-confidence. We can help you achieve that brighter smile while helping you avoid sensitivity afterward.
If you would like more information about teeth whitening, please contact us or schedule a consultation. To learn more, read the Dear Doctor magazine article "Important Teeth Whitening Questions Answered."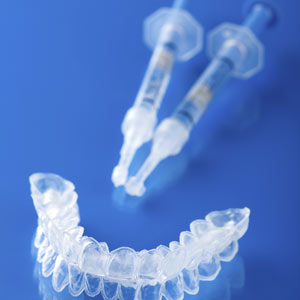 You're satisfied with your smile appearance except for one thing — your teeth aren't as white and bright as you wish they could be. So, you've decided to do something about their dull yellow color.
You're also thinking about buying a whitening product you can use yourself rather than a professional application. But you still want the answers to two questions: are home whitening kits safe? And, are they effective?
By and large the answer to the first question is yes — if you use it as directed. The whitening agents in FDA-approved products are in safe proportions to other ingredients and won't cause any major health issues. That said, if you go beyond the instructed dosage you could damage your teeth, especially your enamel, and cause long-term problems with your dental care.
In addition, if you (or a family member) are still in your early teens, you may want to wait until you're older. Although most permanent teeth have come in by puberty, their enamel still needs to mature. The chemicals in a whitening kit could be too strong for their under-developed enamel. It's best to get our advice on whether your teeth are mature enough for whitening.
As to their effectiveness, home whitening kits should perform as their labeling indicates. But there are some differences in effects between a home kit and a professional application.
Although a home kit usually uses the same whitening agents (like carbamide peroxide), its strength is much lower than a professional treatment — about 10% of volume compared to around 30% in clinical solutions. This means it will take much longer to achieve the desired whitening effect that a professional application can in fewer sessions, and with less precision. In addition, home kits are only effective on surface staining of the enamel — discoloration within a tooth requires treatment by a dentist.
You can get satisfactory results from a home whitening kit. But before you make a purchase, consult with us first — we can advise you on what to look for in your purchase, as well as determine if your teeth can benefit from whitening at home.
If you would like more information on teeth whitening, please contact us or schedule an appointment for a consultation. You can also learn more about this topic by reading the Dear Doctor magazine article "Tooth Whitening Safety Tips."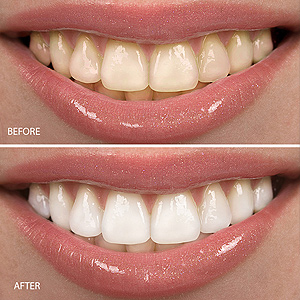 Bright, naturally white teeth are a key component in a beautiful smile. But the opposite is also true: nothing diminishes an otherwise attractive smile more than stained or discolored teeth.
There is good news, however, about tooth staining: it can be greatly reduced with the right whitening technique. But before taking action we need to first uncover the cause for the staining — whether from the outside or inside of the tooth, or a combination of both.
If it's an external cause — known as extrinsic staining — our diet is usually the source. Foods and beverages that contain tannins, like red wine, coffee or tea fall in this category, as do foods with pigments called carotenes as found in carrots and oranges. Besides limiting consumption of stain-causing foods and maintaining daily oral hygiene, you can also diminish extrinsic staining with a bleaching application.
There are two basic ways to approach this: with either a professional application at our office or with a home kit purchased at a pharmacy or retail store. Although both types use similar chemicals, the professional application is usually stronger and the whitening effect is obtained quicker and may last longer.
Discoloration can also occur within a tooth, known as intrinsic staining, and for various reasons. It can occur during tooth development, as with childhood overexposure to fluoride or from the antibiotic tetracycline. Poor development of enamel or dentin (the main sources of natural tooth color), tooth decay, root canal treatments or trauma are also common causes of intrinsic discoloration.
There are techniques to reduce the effects of intrinsic staining, such as placing a bleaching agent inside the tooth following a root canal treatment. In some cases, the best approach may be to restore the tooth with a crown or porcelain veneer. The latter choice is a thin layer of dental material that is permanently bonded to the outer, visible portion of the tooth: it's life-like color and appearance covers the discoloration, effectively renewing the person's smile.
If you've been embarrassed by stained teeth, visit us for a complete examination. We'll recommend the right course of action to turn your dull smile into a bright, attractive one.
If you would like more information on treatments for teeth staining, please contact us or schedule an appointment for a consultation. You can also learn more about this topic by reading the Dear Doctor magazine article "Teeth Whitening."