My Blog
Posts for category: Uncategorized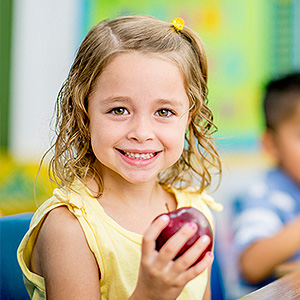 Besides daily hygiene and regular dental visits, the best thing you can do for your kids' dental health is to see that they're eating a nutritious diet. And not just at mealtime—healthy snacking also promotes healthy teeth and gums.
Healthy snack foods are quite similar to their counterparts at mealtime: fresh fruits and vegetables, whole grains and low-fat dairy. At the same time, you should avoid providing processed snacks high in sugar, salt, unhealthy fats and calories.
Managing snack choices at home is usually a simple matter of discipline and follow-through. When they're at school, however, it's a bit trickier as they may encounter snacks sold on school grounds or offered by fellow students that don't meet your definition of a healthy food. Public schools follow nutrition guidelines from the U.S. Department of Agriculture (USDA) on snacks sold on school grounds, but many dentists don't believe the standard goes far enough to protect dental health.
So, what can you do to combat these less healthy snack choices your kids may encounter at school? For one thing, you can work with your child's school officials to exceed the USDA guidelines or turn off snack vending machines right before lunch to lessen kids' temptation to skip lunch.
You can also interact with your children to better manage their schooltime snacking. But rather than issue blanket commands about what they should snack on at school, help them instead understand the difference between nutritional foods and less nutritional ones, and why it's important to choose healthy snacks for their life and health.
Finally, don't send them to school empty-handed—pack along nutritious snacks so that they won't seek out vending machines or their classmates to satisfy the munchies. You can supercharge your efforts with a little creativity (like a dash of cinnamon in a bag of unbuttered popcorn) that make your snacks fun and more enticing than other school ground options.
It's not always easy to keep your kids from unhealthy snack choices. But with a little commitment, interaction and ingenuity, you can help steer them toward snacks that are tooth-friendly.
If you would like more information on boosting your child's dental health, please contact us or schedule an appointment for a consultation. You can also learn more about this topic by reading the Dear Doctor magazine article "Snacking at School: How to Protect Your Child's Teeth and Promote Good Nutrition."
People with diabetes have special concerns when it comes to dental care. In fact, 1 in every 5 cases of total tooth loss is linked to this widespread health condition. November is National Diabetes month, so it's a good opportunity for us to answer some frequently asked questions about oral health and diabetes.
Q. Can I get a dental implant to replace a missing tooth even if I have diabetes?
A number of studies have shown that people with diabetes can be good candidates for dental implants, but there are some concerns regarding dental implant treatment, which involves minor surgery. Wounds tend to heal more slowly in people with diabetes, who are also more infection-prone than those without diabetes. In diabetic individuals with poor glucose control, research has also shown that it takes longer for the bone to heal after implant placement. We will take these (and other) factors into account when planning your implant treatment. However, in many situations even poorly controlled diabetes does not necessarily preclude dental implant treatment.
Q. I've heard people with diabetes have a higher risk for gum disease. Is that true?
Yes. Research shows that people with diabetes are more susceptible to periodontal (gum) disease, especially when their diabetes is poorly controlled. The reverse is also true: untreated periodontal disease can worsen blood sugar levels. So it's important to manage both of these inflammatory conditions. If you notice the early signs of gum disease, such as inflamed or bleeding gums, please bring this to our attention. Early gum disease (gingivitis) is much easier to treat than more advanced forms—which can eventually lead to tooth loss.
Q. If I have diabetes, how can I protect my oral health?
Keep doing your best to control your blood sugar levels with exercise and a healthy diet—and stick to an effective daily oral hygiene routine, which includes both brushing and flossing and coming in for regular dental checkups and cleanings. Make sure to let us know what medications you are taking and update us on any changes. If you notice any mouth sores, swelling or inflammation, bring this to our attention as soon as possible.
If you have additional questions about diabetes and oral health, please contact us or schedule an appointment for a consultation.